Who We Are
We aim high! We have challenged ourselves to digitize and revolutionize the European Tours, Activities & Attractions market directly.
We never settle! To get even better at what we do and support our strong partnerships with the best product on the market, we are constantly looking for talented people with fresh ideas, great energy and passion for our vision and mission.
Are you ready for a challenge? Seize an awesome opportunity to develop yourself personally and professionally! Become part of our unique team – become a "bookingkid"!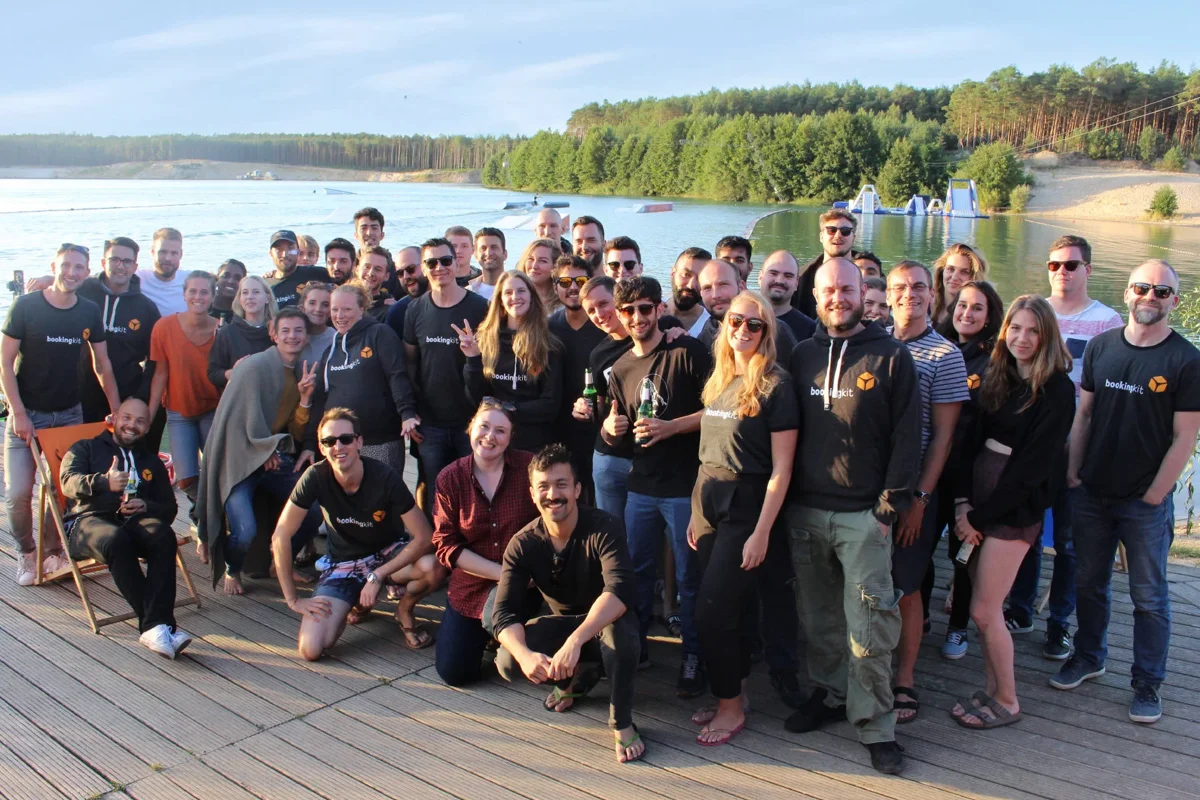 What Unites Us
#trust
We care about each other, and create an environment of respect where all ideas are encouraged.
#ownership
We are committed to each other, actively contributing to each other's happiness and success.
#transparency
We talk to each other, communicating clearly and openly.
#reliability
We lean on each other, and are there for each other, in all situations.
#growth
We fall and jump higher together, celebrating success and humbly learning from failures.
#ambition
We are in it to win it! We deliver solutions that make us all winners, and if things don't work out, we improve & try again.
What's In It For You?
International Environment

80+ bookingkids from all over the world are looking forward to meeting you and working together.


Great Headquarters

A light, open-concept office awaits you in the heart of Berlin, with ample room to work and play.

Work-Life Balance

We combine flexible hours with a mix of remote & presencial work, because time is precious to all.

Dynamic Industry

You have the opportunity to propel the digitization of the 3rd largest sector in Travel & Tourism.

Diverse & Inclusive

Come as you are and build your dream upon your drive and skills.

Perks & Benefits

Chosen by bookingkids, these include sports memberships, transport subsidies, charitable donations, subscriptions… and many more!
See What Our bookingkids Have To Say:
Joining bookingkit means stepping onto a path of continuous growth. Personal development plans are tailor-made for every team member, offering a framework to celebrate strengths and work on weaknesses. We're not just about in-house learning – we endorse education that extends beyond our walls. Need proof? I regularly attend conferences and seminars with company support, because at bookingkit, investing in your education is investing in our success.

Yury

Senior Sales Manager - DACH

Our work environment thrives on collaboration, and our company size offers an unmatched advantage. As a lead, I cherish the collaborative spirit that flows seamlessly across teams. Unlike my past experiences, where customer support was peripheral, here I'm at the core of operations, contributing and driving impact. To add to that, I'm surrounded by industry experts here at bookingkit who are not only passionate but also deeply experienced, igniting motivation and inspiring excellence.

Laura

Head of Customer Support

Bookingkit's heart lies in its team, where egos never obstruct progress. Challenges are met with a collective 'how can we solve this?' spirit. Even during tough economic periods, empathy and understanding prevailed. We tackle problems together, regardless of the situation, uniting to overcome hurdles. An example? A big, recently completed project – a collaborative masterpiece touching every corner of the company. With tasks streamlined and roles instinctively understood, we triumph as a united force. Bookingkit's spirit is collaboration, and it fuels our success.

Ayush

Founder's Associate / Executive Assistant
Your Fast-Track To Us
Step 1: Send us your application.
We will review your submitted documents and get in touch. You will hear back from us promptly with concrete feedback, no matter what!
Step 2: Join us for a phone or video call.
Let's find out if we're a great match! We will invite you to a first video call in which we assess your profile, experience, and company fit, and answer all of your questions of course!


Step 3: Get to know us in person.
We want to take time to get to know you better, Depending on the position, you will also get the chance to prove your expertise in a short assessment.


Step 4: Become a bookingkid!
If we get to the last stage and everyone is satisfied, we will gladly welcome you as an official bookingkid!
About bookingkit GmbH
It started with four people and one joint dream. Now, six years later, dozens of bookingkids support Europe's leading Software for Tours, Activities & Attractions and share their dream.